Continuing Education for Nursing Faculty and Students
A Division of Educational Assessment Strategies, LLC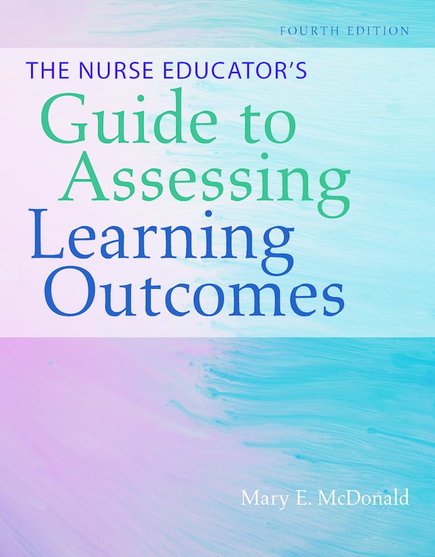 Fourth Edition Available Now
The Nurse Educator's Guide to Assessing Learning Outcomes, Fourth Edition is a widely-used resource for both faculty and nursing education students that covers the assessment of critical thinking, the development of learning objectives, and the creation of tests, including detailed tips for writing many kinds of individual test items. The book also covers the analysis of test reliability. Examples of effective and ineffective test items are included throughout to help faculty and nurse educators deepen their understanding of how to create effective tests and assess student learning.
Key Features
Interpreting test and item analysis data
Using Bloom's taxonomy to increase the cognitive level of items
Establishing evidence of reliability and validity
Determining the difficulty level of items
Developing alternate item types
Revising items to increase their cognitive level
This book is a must have for any nursing instructor wanting to improve their skills of writing test questions. It is very easy to follow and even offers many helpful tools in the appendix. I highly recommend this to any nursing instructor.
-H. Burch
NCLEX Success Coach
The NCLEX Success Coach series is the only NCLEX test prep series available as an interactive test that contains only critical thinking questions; the same quality of questions that are on the NCLEX. The questions and rationales, written by Mary McDonald, an expert in test development, will help you identify what you do and do not know to guide your preparation for success on both your classroom exams and the NCLEX.

NCLEX Success Coach series includes these alternate format questions in the tests. The questions on the NCLEX are mostly 4-option multiple-choice. But there are also alternate format questions. All questions are scored as either right or wrong.

There is no partial credit. So, for example, you must select all of the correct options and none of the incorrect options on a multiple-response question to receive credit. There is not a set percentage of alternate format items. The questions administered are selected based on the candidate's ability. The NCLEX Success Coach series includes alternate format items at a variety of difficulty levels.

Remember, the point of the NCLEX is to test critical thinking. If you can think like a nurse, you will pass NCLEX. Don't worry about mastering a particular format; all of the question types are designed to test your ability to analyze and apply information. However, it does make sense to familiarize yourself with the different formats used on the NCLEX so you will not be surprised in the actual test.

The NCLEX Success Coach Series includes, multiple-response, fill-in- the-blank, chart/exhibit, and graphic option items. Remember, you do not have to master an item format type. You need to master the concepts of safe nursing care and be able to apply your knowledge to clinical situations.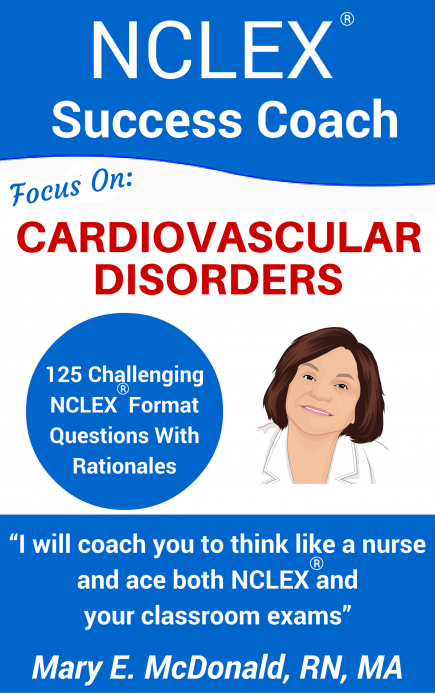 See What Nurse Educators Are Saying
I have attended several test construction and assessment conferences, but Mary McDonald's seminars have been instrumental in helping me to find a practical approach to applying those concepts in the courses that I teach. She has provided pragmatic and knowledgeable stategies for facilitating the process of test construction and the application of data from item analysis.  

"Mary McDonald's workshop is a must for all faculty members who write their own test questions."  

"Thank you very much for presenting your Test Construction workshop at Bellevue Community College. The faculty really enjoyed your presentation, especially your expertise and teaching style. I sincerely appreciate your contribution to the success of the BCC Continuing Nursing Education Program."  

Mary, I just want to thank you again for the outstanding presentation that you gave to the attendees at our faculty development workshop last week in Peoria. You probably know by now that the evaluations were very positive... Everything they say about you is true. I would like to add that you are so down-to-earth and personable, which counts every bit as much as knowledgeable in my experience. You teach the teachers, not only through your expertise, but also by your example.  

"Thank you so very much for being our guest speaker at the Florence and Marie Hall Endowment Faculty Development Workshop. I found your presentation not only to be informative but effective and thought provoking. The expertise you shared with us in assessing learning outcomes will prove to be valuable information for the faculty."

"Thank you for speaking during AACN's Faculty Development Conference held in Nashville, TN. The 224 attendees evaluated the conference highly, and you contributed directly to its success. Your concurrent session, "Interpreting Test Analysis Data," was well-received. One participant indicated that this session was the single best aspect of the entire conference. On behalf of AACN, thank you for supporting the work of our association and the success of this conference."  

Mary, I want you to know how much the faculty praised your presentation. They (including me) felt it was excellent and touched on some of the problems we have been having. I will be following up in the fall and asking faculty how they would like to proceed implementing some of your suggestions. I already had one faculty member say she will be spending her summer re-writing her test items. Thank you again for your wonderful presentation.

"On behalf of my School of Nursing colleagues and myself, I write to thank you so very much for the wonderful workshop you conducted  and the most informative presentation I've seen. The evaluations from both programs were extremely positive, and faculty are still "buzzing" about all they learned and how much they enjoyed spending time with you."

Thank you for presenting AACN's Faculty Link webinar. The topic "Interpreting Test Analysis Data" was a popular one. It is important to highlight some of the many positive comments about this session, such as: - What a valuable resource Mary is. Keep having webinars by her -Very knowledgeable presenter; appreciate her expertise -I had studied much of this information for the CNE exam but there was still a lot that I learned today -Ms. McDonald did an excellent job of explaining. It was great that she used so many examples -The information was well presented and clear. I think I need to listen to it a few more times! It helped me understand some of the numbers I get after an exam is completed, and gives me feedback about what I need to do to improve them. Thank you! Thank you for being willing to share this valuable information with member school faculty. We appreciate your major contribution to this new national faculty development activity."

I wanted to Thank You for the outstanding presentation you provided us here at the Purdue School of Nursing. The program evaluations were extremely positive and the faculty felt their testing and evaluation skills will improve as a result of your visit."

Mary McDonald presented at the Rutgers College of Nursing Continuing Education Nurse Educator Course Certificate Course in Summer. She gave an outstanding presentation on creating and evaluating multiple choice questions. Her evaluation by participants was outstanding with such comments as "I learned a lot from Mary" and "Mary McDonald was excellent, knowledgeable and dynamic."

Once again, please accept our sincere appreciation for the workshop you presented, Developing Quality Multiple Choice Exams. The evaluations for this workshop were uniformly excellent and many participants commented on how they can immediately put to use the content in their own exam development. Thank you again for the time and energy you put into developing your presentation. I look forward to working with you in the future on other faculty development workshops.

I want to thank you again for presenting such a wonderful seminar on developing trustworthy multiple-choice classroom exams for our faculty. I know this is an area that we have all struggled with and you gave us some great tools to work with. Again, it was great to meet you, you did a wonderful job for us and I really have used your book a great deal since becoming faculty.

This book is a must have for any nursing instructor wanting to improve their skills of writing test questions. It is very easy to follow and even offers many helpful tools in the appendix. I highly recommend this to any nursing instructor.